Using Keywords is the key to unlocking your success when it comes to gaining the attention of the public online. If you want to get a higher ranking online for either yourself or a client and trying to help but are struggling to do so, there's no need to panic. If you are an Orange County business owner and want to gain the media exposure necessary to make your content stand out, you need to hire an SEO expert who understands what effective keywords to implement or insert on your content.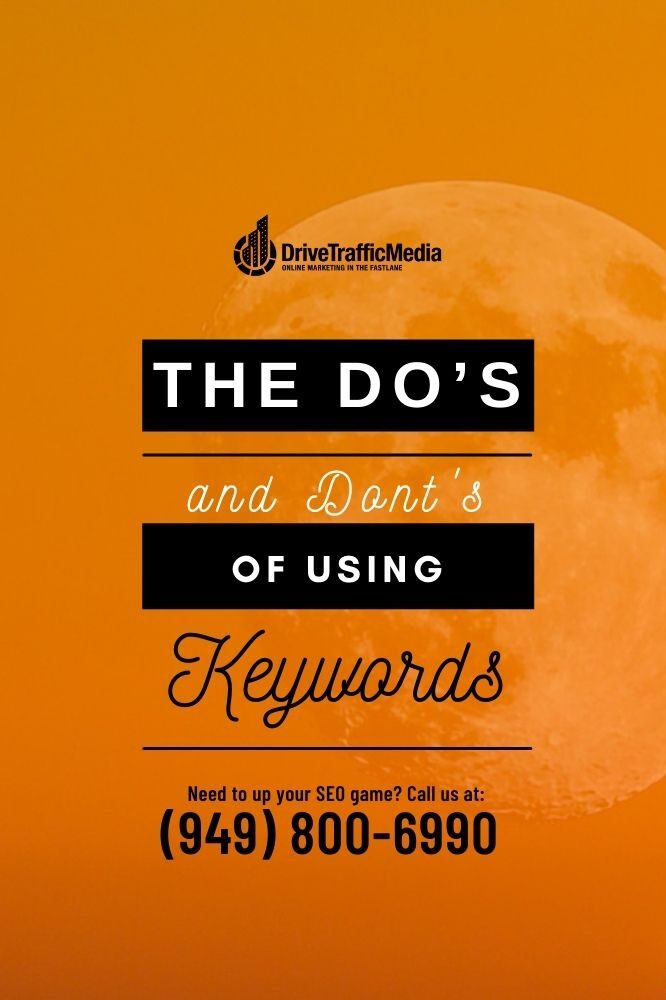 What are keywords?
Keywords are terms used to cover topics based on the category you want to write. If it fits the category and checks certain boxes, it could even reach high up in the search engines. They don't even have to be words but rather phrases that can make your content stand out online. It's pretty easy to come up with any random keyword to write up for your article. However, for those who want to stand out from their competitors, you need an SEO expert's advice to find out what keywords are relevant and popular at the moment.
Choosing the keywords
To make this process easier for you, make a long list of possible keywords using tools like SEMrush. You can eventually narrow down your options and choose which words would work best from the list. With the much-needed assistance from an SEO expert, you will find out which keyword will get the traffic needed to succeed in acquiring the online attention you want.
Choosing a Topic
After you've chosen the keywords you want to focus on, you need to consider your content topics. If you don't have a solid base in which your keyword can thrive, you're going to stumble out of the gates from the getgo. Think of multiple topics that you can come up with related to the business that you want to write and relevant to what people are talking about or looking up on their search engines. For example, you are designated to promote a shoe company. You might want to cover topics such as different brands of shoes, the types of shoes, and narrow your list from there. Understanding and using these topics and incorporating the keywords you've chosen are crucial to accomplish your online marketing goals.
Trends
One of the most significant factors for choosing the right keywords is observing the trends and relevancy of specific keywords. You need to understand that not all keywords will remain relevant, especially when considering you're topic. For an Orange County SEO Expert, paying close attention to what is popular can make or break your chances of excelling further in the SEO framework.
Authority
You also need to be careful in deciding which keyword to use, even if it has a good volume of traffic. The reason for that is while you may be able to jump onto a trendy keyword that gets a lot of traffic, it will mean nothing if there are other more prominent websites or content creators that will rank higher than you in SEO. This incident usually happens because they have a higher authority than you, so they get prioritized in the search engine game. This occurrence can also happen if they have more helpful info or contain a great source of links and other backlinks that make them stand out heavily compared to their competition. Trying to compete against such domains can be challenging although not impossible. However, for a starter, it might be wiser to look for a different set of keywords that your content can thrive in rather than dealing with too much competition.
Content
Of course, simply choosing the keywords you think would work out the best and having the best backlinks to work off is not enough. You need to make sure that your content is worth giving the time of day to justify users visiting your site. Let's go back to our discussion about shoes and say that running shoes are the keywords you want to use. Going into an in-depth explanation as to how running shoes help in outdoor activities can and will provide enough content with just the right amount of words to give you what you need to stand out.
Conclusion
Those who wish to become Orange County SEO experts need to understand that there are many different factors at play if you're looking to become a consummate professional at your craft. Those who follow these guidelines and understand the importance of using suitable topics with the right keywords find themselves thriving in their business. Need help in this matter? Call Drive Traffic Media, an Orange County SEO expert, at (949) 800-6990 and let us help you get ranked with the right keywords.