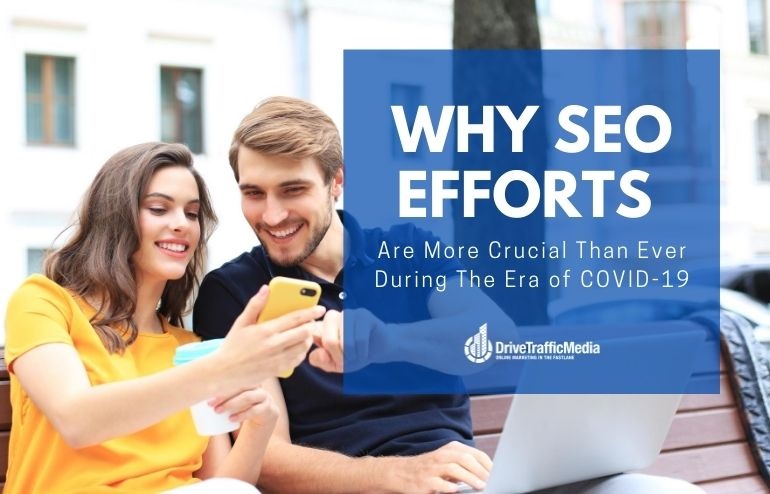 ---
Why SEO efforts Are More Crucial Than Ever During The Era of COVID-19
In the age of COVID-19 where things have been nothing but uncertain, companies from all ends of the spectrum have found themselves asking the same question: how do we stay afloat? Funds have been reallocated in many different directions, resulting in major budget cuts and leaving employees unemployed. During a recession, marketing is often the first department to face such ramifications. Drive Traffic Media, an Orange County SEO company has shed some light on how Search Engine Optimization (SEO) might be the very thing that keeps you in business.
Digital Consumption Is Rising
With the introduction of "Stay at Home" orders and the harsh reality that we must stay within the four walls of our home, people are engaging in online behavior now more than ever. Individuals are purchasing from websites more, streaming movies and tv shows more, and are altogether consuming the digital world more than we're used to.
Figuring out an individual's digital needs and search behavior gives marketers the opportunity to reshape their marketing strategies.
While it is still true that not everyone is buying products or investing in services, this could very well be the perfect opportunity to build a foundation of trust. Positioning your content and solutions where these people are doing their research is your lucky chance. A smart way to go about it would be to explain how your service could be of use once the pandemic subsides. What do you offer that could ultimately be beneficial for consumers in the future?
SEO Surpasses Divisions
Pulling information from paid search datasets or looking at audience research findings through interviews, polls, and surveys are all components that modern-day SEO utilizes to form a strong digital marketing strategy. Regardless if your company uses an in-house team or a third-party vendor to conduct your SEO strategies, you should be able to make use of these datasets to produce well-informed business decisions during this time of uncertainty.
SEO Will Be There When PPC May Not
As the possibility of a recession draws closer, companies need to start thinking about where to halt their spending. If companies need to tighten up their budget, paid social and paid search are likely to feel the repercussions. If a recession does happen, establishing your website's presence prominently in the Search Engine Results Pages (SERPs) is even more vital.
Drive Traffic Media, one of the leading SEO company in Orange County, suggests the great potential of integrating Pay Per Clicks (PPC) and SEO together to create achievable business goals. It is crucial to understand where your company could possibly cut or invest spend because of shifts in budget. Strengthening your business's SEO efforts is a smart route to go in order to alleviate the effects of budget cuts on advertising channels.
SEO Is Here to Stay

The pandemic will end at some point in time and businesses will begin to heal. While there may not be a definitive time frame for that, your website's online presence when we do get to that point is pivotal. Optimize and prepare your website now so it is ready to help aid your recovery process in the future.
SEO is without a doubt one of the strongest resources your business can utilize during a time of crisis. We're in one right now, take advantage of it!