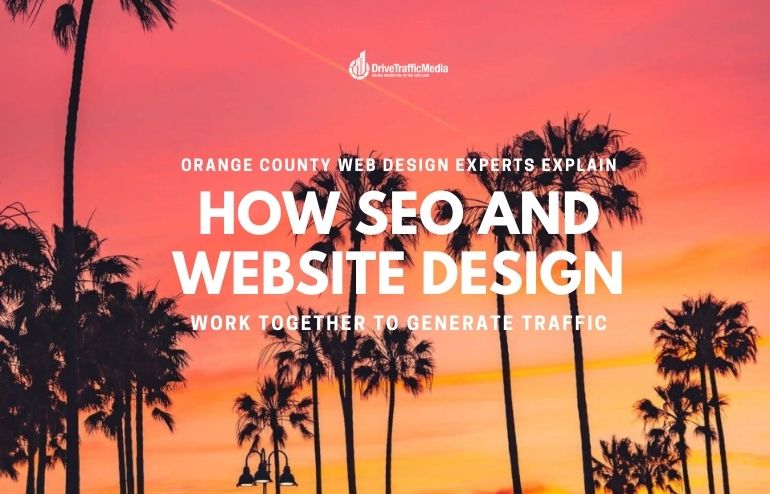 ---
How SEO and Website Design Work Together to Generate Traffic
According to digital marketing experts in Orange County, web design and SEO go hand-in-hand to generate traffic for your business. Good SEO can help bring new customers to your site and good design will ensure positive rankings via Google's vetting process. Together, these two elements are the ultimate marketing strategy.
When you're designing a website, you want it to be easy for Google's web crawlers to find and access. As long as these digital reviewers can understand your content and recognize the quality of your site, you will be rewarded with higher rankings. Good design, then, is imperative to allow your SEO to function. The Orange County web design experts of Drive Traffic Media say that the integration of SEO with design is the key to having an effective site. Without considering these in tandem, you risk losing a lot of money in design adjustments and optimization fixes.
Search engines like Google have web crawlers that will read through your website to check the integrity of your internal links and pages. Experts say that text-based sites do the best because they speak directly to what the crawlers are looking for. Even better, you should utilize Google web fonts and keywords related to your industry. If your website has mostly videos and sliders, then this may not translate well to a Google web crawler, thus lowering your chances of getting high rankings.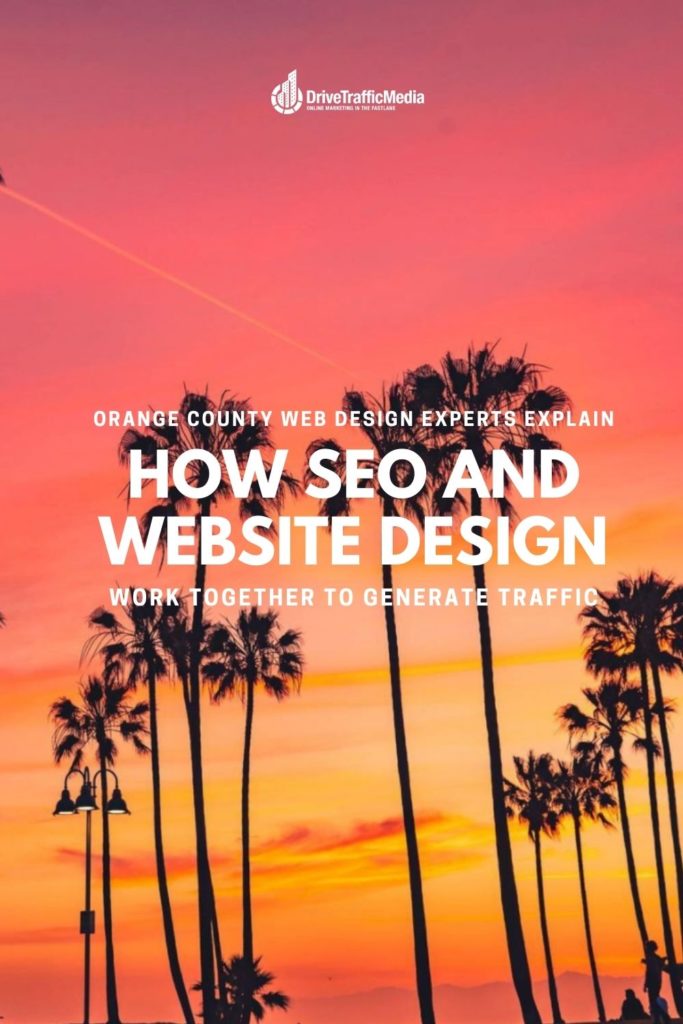 Web developers understand that a good website should have a straightforward homepage. Google crawlers are looking for things like your company name, location, and description of service or products. If a web crawler can't determine what kind of business you are in a reasonable amount of time, then you will not be easily found by your customer base. Good copywriting is key. So, when you're designing a website, you should be working on content creation simultaneously. Think about how you want to present yourself to your audience. Tone and style will come into play as you're writing the copy for all of your pages.
Blogs are another essential element for your website design and SEO. By publishing unique, industry-specific blogs with high-volume keywords, you will contribute to your organic SEO as well as the user-friendly functionality of your site. Your customers will see you as an authority in your industry, which will help build trust and respect as you market your product or services. Plus, you can also use blogs to integrate high-volume search phrases and keywords that will get your page found by potential customers. Hiring a digital marketing agency with blog-writing services and SEO knowledge can save you time and money as you build the integrity of your website.
When you're building a high-quality website, internal links and URLs are other important elements to consider. Like your website copy, internal links should be clear and easy to find. Search tools, menus, and backlinks should be optimized to find other pages without trouble. URLs should be consistent and clear. The best way to do this is to use the titles of web pages and blogs in the forward-slash part of your URL; for example, your About Us page should probably be: YourWebsiteName.com/about-us When a web crawler sees your site organized this way, they will reward you with higher rankings.
Everything about your website should flow, much like a convenience store. Think about how shoppers move through a store with ease because things are organized in aisles and clearly labeled in the signs above the aisles. Your website should be the same, from your homepage to your about us page to your services page. You may need to have a few different landing pages that are connected to your website with a more simplified call to action. Websites that are designed for the optimal user experience will have higher click-through-rates and conversions.
In creating a website, you're essentially thinking of two audiences: potential leads and web crawlers. Both are important. The first ones are your real-life customers. They are going to assess your website based on its loading speed, aesthetic value, ease of navigation, and quality of content. In order to impress potential leads, you have to have an understanding of what value you're offering them. Web crawlers will assess the same kinds of elements in a straightforward manner. Creativity and emotional resonance may sell your customers but organization and clarity will sell the search engine bots.
Nowadays, there are so many platforms on which to build a website. Theoretically, you could do it all on your own. However, most experts would agree that you should still seek web design and SEO services if you have no prior experience with web development. Technology is constantly changing, which means that having a fully-optimized site is not a one-time job. It's constant. You have to update content, plug-ins, make sure you're following ADA compliance rules. Full-service digital marketing agencies are paid to stay up to date on all of these factors. So, if you want to focus on running your business instead of optimizing your site, then you should hire a digital marketing firm to keep your website, blogs, and SEO practices current and relevant.
Websites do more than publicize your business, they are a part of a grander scheme of marketing to generate conversions. In an increasingly digital world, websites are the face and voice of your brand. Whether you have brick-and-mortar stores or are strictly an e-commerce operation, a well-designed website will ensure customer loyalty and invite new leads to explore your product or service. When you optimize websites for search engines and leads, you immediately become a more competitive business.
Drive Traffic Media is a full-service digital marketing agency in California, serving the Los Angeles and Orange County areas. Our clients occupy a wide range of industries and business sizes, which means that we are adaptable. Website design, blog-writing, social media, and SEO services are just a few of the projects we can manage within our highly effective operation. Call us at (949) 800-6990 to learn how we can help you get more traffic and more sales for your business.